So my elbow is feeling better, and I figured I would put the C5Z up on the lift so I can check to see if the exhaust pipes are leaking where the headers connect up with the X-pipe. The reason for this is that if I didn't have any leaks at those joints, then I wouldn't have to pull off that X-pipe. The exhaust pipe arrangement is front to back: headers, X-pipe, catalytic converters (straight pipes right now), extension pipes to the cat backs, cat back pipes, rear mounted turbos, then exhaust pipes coming out of the turbos. The extension pipes to the cat back pipes just have to have the bolts removed and then swung out of the way so that I could remove the straight pipes and the extension pipes. Put in the catalytic converters replacing those straight pipes, and button it all back together. Shouldn't take long to do.
So I started up the car and lifted up. Then squirted the joints with soapy water and look for bubbles. Damn. Leaking like crazy. Looks like the tech didn't push the pipes together enough, because there are slots cut into one of each pipe end that slides over the mate in the slip joints. They look like this: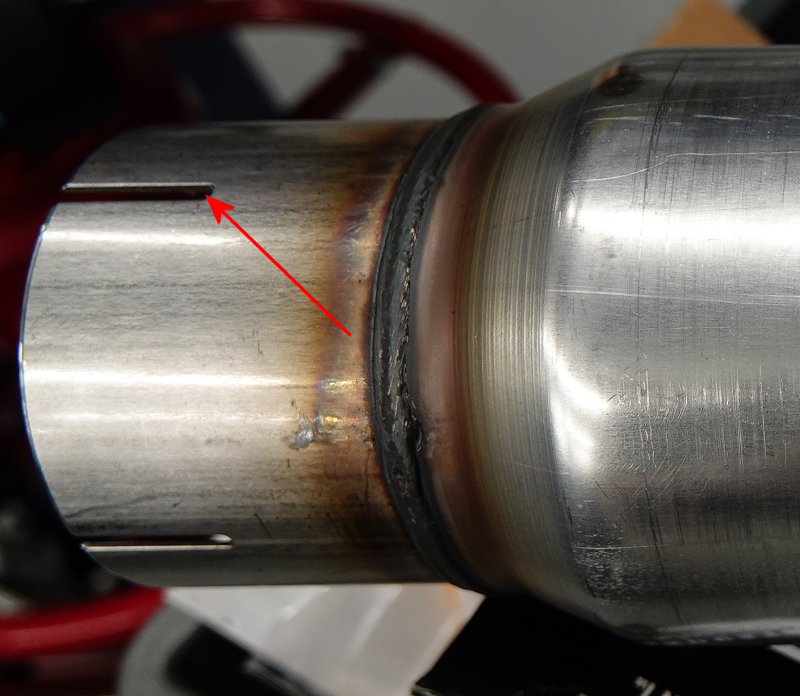 The slots are there so that the clamp can make a better seal with the clamping force applied by the clamp.
So what happens is if the inside pipe isn't shoved in far enough to go beyond the cut slots, exhaust escapes, goes right underneath the clamp holding the joint together, and there you have an exhaust leak. So if one is leaking at a joint, then ALL of them on that joint are leaking. So yeah, I suppose that the exhaust smell I have been smelling while driving the car is coming from those exhaust leaks right underneath the floor boards of the passenger cabin. And for a turbo powered car, so is a lot of the boost being generated just being pissed away through those leaks.
Great.... Probably a good chance the other joints downstream are leaking too, but I didn't bother checking them since I have to take that all apart anyway. I guess the tech just didn't check for exhaust leaks.
Honestly, if something else comes up with this car that I can't fix myself, I will just sell it. As parts, if necessary. NO ONE appears to be worth a crap for fixing these things. At least in my experience.